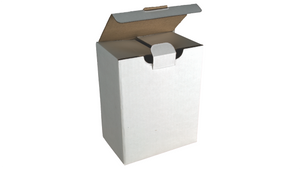 Our corrugated temporary urn is a low cost, eco-friendly alternative to plastic cremation urns. Corrugated urns are the same size as a standard black urn (200 cubic inches), comes with a bag and tie, and fits into our Corrugated Mailers. Corrugated Urns are delivered flat for easy storage and sold in packs of 50.
Extra Plastic Bags and Ties are available if you are running low. Plastic Bags and Ties are sold in quantities of 100.
We strive to display our products as accurately as possible. Due to the inconsistencies of various monitors, the color you see on your screen may vary slightly from our actual product.